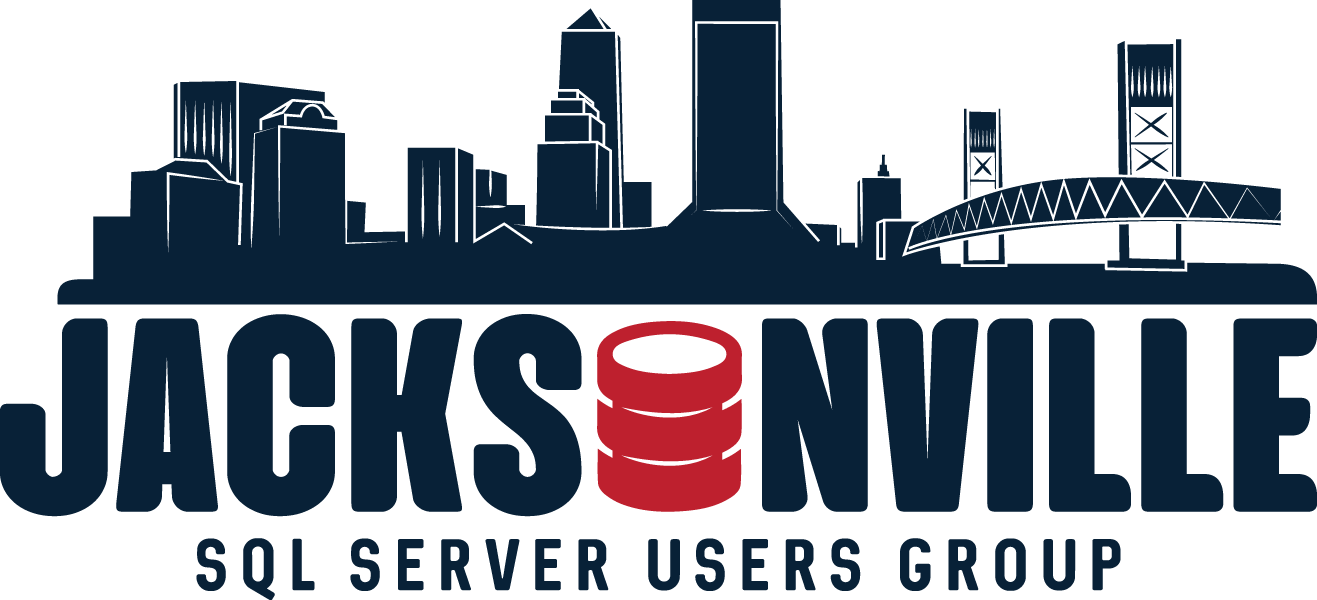 Event Date: 06 May 2023
This event is: in-person
The capacity limit for this event is 800
Registration coming soon
Location ● Sponsors ● Schedule ● Speakers ● Volunteers ● Contact
There is a code of conduct for this event that all attendees are expected to follow. Please report violations to the organizers If you need to report a Code of Conduct violation, please contact the organizers and send a copy to coc@sqlsaturday.com
Event Details
Jacksonville's 15th Annual SQL Saturday event includes two paid pre-con tracks and one FREE day of training sessions for Microsoft Data Platform professionals and those wanting to grow their skill set in Business Intelligence, Analytics, and SQL Server. This event is being hosted by Jacksonville SQL Server Users Group a 501c3 non-profit organization.
SQL Saturday is a training event for SQL Server and data professionals who want to learn how to elevate their careers to the next level. This is the 15th year of SQL Saturday in Jacksonville and will be held on May 6, 2023. Admittance to this event is free, all costs are covered by donations and sponsorship. Please register soon as seating is limited, and let friends and colleagues know about the event. SQL Saturday Jacksonville is hosted by Jacksonville SQL Server Users Group which is a 501c3 non profit organization.
Why Attend? This is a great opportunity to learn from SQL Server Experts, Microsoft MVPs, SQL Server Authors, and Professionals who have been through and can relate to the obstacles you have day to day. This one day training event is unlike any other providing free food, training and networking.
The official website is: http://jssug.org
Lunch: $15 (optional)
Event Hotel:
Hilton Tru
You may place discounted reservations between 5/4/23 and 5/7/23 - All reservations must be booked before 4/20/23 for the discount.
Registration coming soon
Location
The event is taking place at:
University of North Florida (UNF)
1 UNF Drive
Jacksonville, Florida USA

Sessions will be in Building 51 and Building 4.

Parking in Garage 38 near the baseball fields.


Please Visit Our Sponsors

There are sponsorship plans available.
Speakers
The call for speakers is open until 31 Mar 2023.
You can submit a session by clicking the link below. The call for speakers ends on 31 Mar 2023
Volunteers
Volunteers are very important to a successful event. Please contact the organizer to volunteer.
Contact the Organizers
The organizers of this event are:
JSSUG (Jacksonville SQL Server Users Group) - Contact:
Jeff Taylor - Contact:
Previous Events
You can see a list of previous events for this location here
Sponsorship Plans
Sponsorship Opportunities
SQL Saturday Jacksonville 2023 #1041 is a full day conference related to the technology of SQL Server and data. SQL Saturday is hosted by the Jacksonville SQL Server Users Group and is a 501c3 non-profit organization.
With the help of a lot of Volunteers, we provide excellent sessions, refreshments, and lunch providing ample opportunities to interact with local professionals. We ensure there is adequate and comfortable space for all Sponsors to meet with attendees, and network. We work hard to ensure that the SQLSaturday is a great experience for all, especially our Sponsors without whom the event just would not happen.
This is our 15th annual SQL Saturday event, and it has grown steadily since being the #3 SQL Saturday in 2006. With the support of our Sponsors, remains free and open to the public. For 2017-2019, SQLSaturday Jacksonville attracted over 750 attendee registrations being the 3rd largest SQL Saturday in the United States. In 2022, we had over 400 attendee registrations and were the largest SQL Saturday for the year. We had 50+ sessions led by 40+ world-class presenters. We anticipate sustaining our year-over-year increase in attendance for SQLSaturday. The volunteer organizers of SQL Saturday Jacksonville 2023 are proud to offer the following Sponsorship opportunities.
In addition to the standard Sponsorship levels, we offer a select set of Marquee Sponsorship Opportunities. These are special ways to show your support of SQL Saturday Jacksonville 2023 and achieve maximum visibility for your company. Find details about these premium Marquee Sponsorship Opportunities below.
Contact Us
We hope you'll support this event! Please contact us at jeff@jefftaylor.io if you have any questions.